The leather jackets are coming!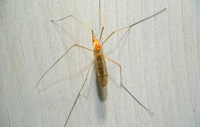 Leatherjackets have been reported in our area. Relax, we are not talking about motor cycle gangs but the larvae of European Crane Flies.Leatherjackets is a common term used out West to describe crane fly larvae.
Crane flies resemble large mosquitoes and there are many native species of this insect. It is not uncommon to see them in late summer in yards or around lights at night. While they resemble mosquitoes, they do not sting or bite. Their larvae live in water or moist soil and feed on decaying plant material.
The European Crane Fly is another imported insect that can cause problems. It was first identified in Canada in 1955 in Nova Scotia and found in B.C. in the mid 1960s. These insects are very common in parts of B.C. where the climate is ideal for them. In Ontario there have been sporadic reports of crane fly larvae since the mid 1990s. These crane flies are also called leatherjackets because the larvae have a tough skin. Adults are large with long legs and range in size from 14-25cm. The larvae range in colour from gray to greenish brown and when mature are 3-4 cm long.
The larvae or leatherjackets feed on turf in lawns, golf courses and pastures. They feed below the surface on roots and crowns. At night in warm, damp weather they will come to the surface and feed on stems and grass blades. Homeowners often first become aware of the leatherjackets when they see them on their driveways, sometimes in large numbers. Damage to lawns usually occurs in April and May in this area. The larvae go into a non-feeding stage in mid-summer and pupate in late August. Adults emerge in late summer; mate and die being very short lived. Young larvae feed in the fall, overwinter and then resume feeding again in the spring. These insects require moisture so rain in the fall and spring along with a mild winter will contribute to increased populations.
In large numbers, larvae can cause severe damage to lawns. Smaller numbers however often will not bother a healthy lawn. You can check your lawn by cutting out a section of sod about 15cm square and counting the number of larvae. If the count is over 5, then control may be necessary. Birds will eat large numbers of the larvae and mowing early on damp mornings will kill larvae still feeding on the surface. Some of the parasitic nematodes will kill leatherjackets and diazinon is registered for control.